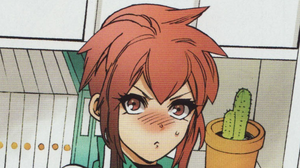 Minori Saizaki (才崎美徳) is a middle school gym teacher.
She has a cold personality towards her students, as she attempts to get them to listen to her- her real personality however is that of a firey woman who leaps to hasty conclusions.
Since the first chapter she's been introduced in, she's been attempting to either figure out a way to properly thank Hades-sensei for his hard work, or prevent him from using his mobile infirmirary.